Ghost Hunts at Warwick Castle
Join us for what could be the most terrifying experience of your life as we encounter some of the most intense paranormal activity ever witnessed at the famously haunted Warwick Castle. An atmosphere like no other, Warwick Castle has it all, the ghosts and spirits of the Castle never fail to interact with the visitors who dare to spend the night here.
The Fascination of Ghost Hunts - a guide to ghost hunting
Details
Location: Warwick
Event Date: Friday 21st September 2012
EVENT CLOSED
Event Time: 9:00pm - 5:00am
Please see below for further dates
Ghost Hunts at Warwick Castle - Friday 21st September 2012
You only have to look at this historic monument to see the potential of this magnificent Castle. Warwick Castle was originally built in 1068 by William the Conqueror and then gradually rebuilt in stone. Thomas de Beauchamp added a huge gatehouse barbican in his attempts to build up the defences of the Castle in the late 14th Century. He also added the two enormous towers that dominate the Warwick skyline to this day. This Castle has a wealth of history and for those of you who wish to get to grips with this we suggest that you visit the Warwick Castle Website. This will ensure that you are given a full historical overview of the period activity here.
There are many recorded ghost sightings at Warwick Castle but none more so than the ghost of Sir Fulke Greville. He was murdered by his manservant in 1628. It is thought that his ghost appears from his portrait and his footsteps plus apparitions of him have been heard and seen walking around his study within the tower walls. The tower is now aptly named the ghost tower.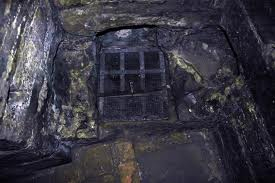 The dungeon is a terrifying place even by day. By night it takes on an even more sinister aspect to it. On an earlier investigation here, the spirit of a black dog was picked up in the dungeon and many guests all heard the sound of growling and saw a set of red eyes darting all over the floor area.
Whilst in the Barbican we had a clear bolt of light which came from ceiling to floor during a vigil. This was terrifying in its intensity, however, at the same time one of our guests heard a noise coming from the Oubliette which sounded like a high pitched scream.
Many people have witnessed ghostly activity at Warwick Castle but what is very compelling is that many people have witnessed the same sorts of activity. This has included ghostly footsteps pacing the corridors, lights have been seen in abundance and the ghosts of what can only be described as servants going about their duties have been seen on a regular basis by many.
The intense activity here at Warwick Castle could have so much to do with the fact that the Castle itself is built on a Ley line stretching from Clopton Hill to Herefordshire. This Ley line is famous for its concentration of hauntings but none more so than at Warwick Castle where the ghosts and spirits are firmly in abundance.
Haunted Happenings are going to take you on an investigation like no other when we visit this very haunted location. We believe that you are bound to witness something paranormal and we defy even the most hardened sceptic amongst you not to feel something here.
Your event includes:
You will be working with the team including your Medium and investigators.

You will be able to take part in our demonstration workshops


You will have full use of the ghost hunting equipment including dowsing rods and crystals


You will have full use of all the ghost hunting equipment during the event.


You will be carrying out experiments in the most active areas including glass moving and table tipping.


There will be an opportunity for you to carry out your own investigation using skills learned.


Refreshments will be served throughout the night including teas, coffees and snacks. However, if you prefer to bring your own sandwiches then please feel free to do so.
Directions, Hotels & Weather View
Warwick Castle, Warwick, Warwickshire, CV34 4QU
If you are coming by Sat Nav please use the following postcode:
CV34 4QU

For Hotels near Warwick click here
Please note that these driving instructions are for guidance only and Haunted Happenings is not responsible for you arriving at the event on time. You will also be sent your event email the week of the event and this will included any further parking instructions and meeting points you will require for the event.
Google Map
Testimonial

I would just like to thank Haunted Happenings and your fabulous on site team. I attended your event at Warwick Castle on Friday 11th March 2011. I have been on several ghost hunts but this one was the best by far. The whole evening was full of activity and so well planned.

The team were great, giving us all the opportunity to carry out so many invetigations and using equipment. I had a message from wait for it, my dear departed horse, yes you are reading this correctly, my horse came through. This is a first for me. I am a spiritualist and have had many many messages but this is a first. It gave me so much comfort and affirmation that just because I cant see him that hes still here. We picked up lots of names, some of which I am trying to get confirmation of. I shall be returning to Warwick Castle and will also be returning there and to other locations with Haunted Happenings. Thank you all once again for a superb nite and not forgetting to thank the many spirits who graced us with their presence.

Kerry Pedley - Warwick Castle Ghost Hunt


Forum Quote

"Had an excellent night at Warwick Castle - stunning location... Scott and I were truly amazed at the Ouija board session in the Jail section of the castle..."
Post this event to your Facebook Wall
Check out the Ghost Hunts at Warwick Castle with Haunted Happenings - Join us for what could be the most terrifying experience of your life as we encounter some of the most intense paranormal activity ever witnessed at the famously haunted Warwick Castle. An atmosphere like no other, Warwick Castle has it all, the ghosts an...
Further Dates

Thank you for considering your next event on the Ghost Hunts at Warwick Castle. We also have the following available dates for your consideration.